Cries of "Shame! Shame!" rang out through a Vancouver gallery Wednesday (March 15) as the families of Indigenous and Black people killed by police in B.C. and Canada gathered to mark International Day Against Police Brutality.
The Gallery Gachet space is lined with dozens of sewn art pieces, displaying the names of a fraction of the people who have died following violent interaction with police in Canada.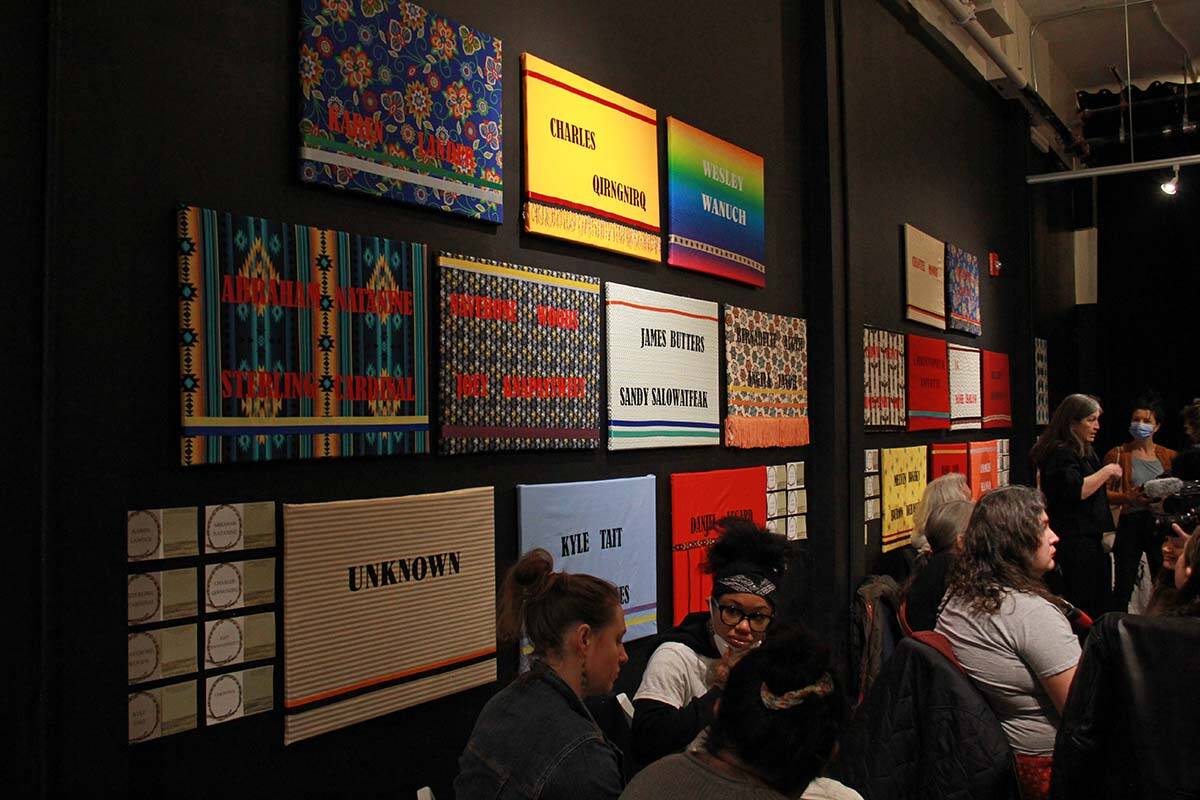 In B.C. alone, there have been 141 police-involved deaths since 2000, according to data project Tracking (In)Justice.
Two of those deaths were of Julian Jones – a 28-year-old Tla-o-qui-aht First Nation man shot and killed by a Tofino RCMP officer on Feb. 27, 2021 – and Jared Lowndes – a 38-year-old Wet'suwet'en man shot and killed by a Campbell River RCMP officer on July 8, 2021.
Both men's families were present Wednesday.
"It's sickening that police can just get away with killing our loved ones left, right and centre with no accountability," Laura Manson, the sister of Jones, said to a few dozen people gathered in the Downtown Eastside gallery.
The officer who shot her brother has never been identified and B.C.'s police watchdog, the Independent Investigations Office of B.C., cleared him of wrongdoing.
Under the Criminal Code, a police officer in Canada is allowed to use lethal force if the officer believes it is necessary to save their life or protect someone else from death or serious harm.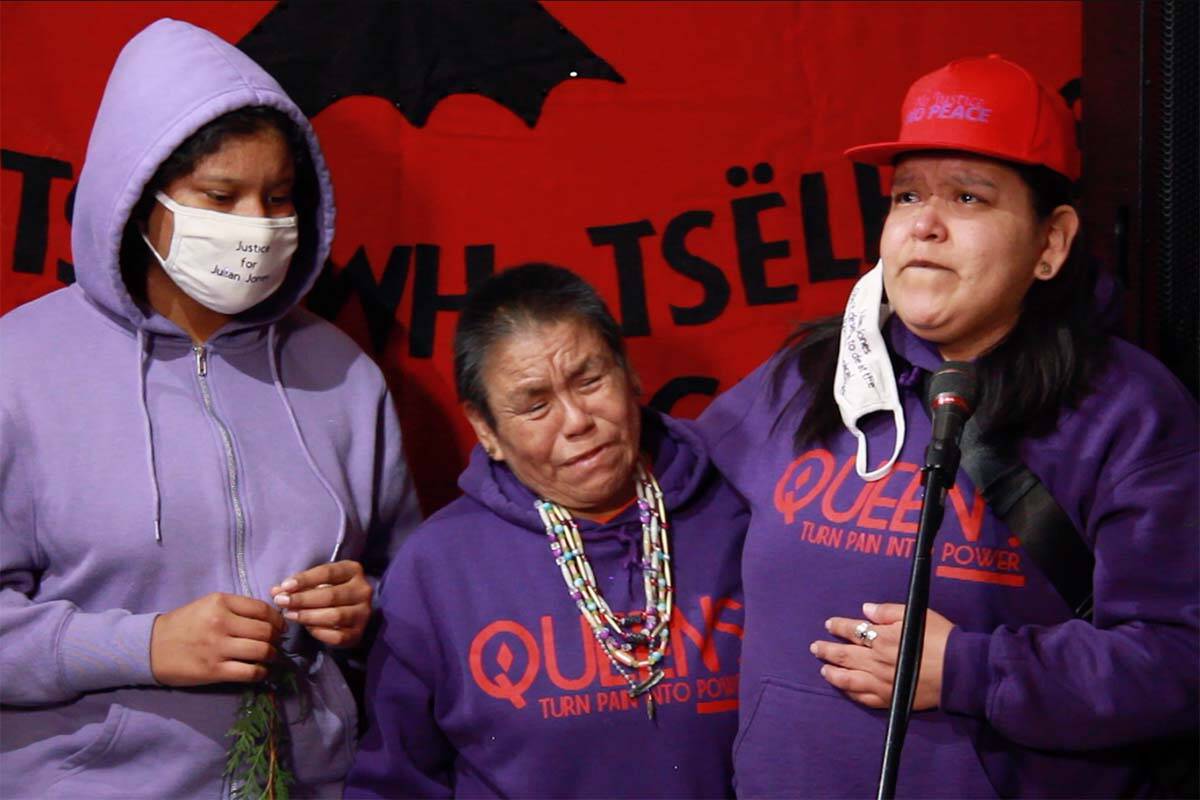 Manson said the privilege offered to police officers when they kill someone is infuriating.
"If I were to go and shoot and kill somebody today, my name would be plastered across the media. I'd be instantly criminalized because of the colour of my skin. The white people would come out of everywhere and say that I deserve to be killed or that I deserve to die in jail or rot in jail. Meanwhile, this officer that took a son, took a brother, took an uncle, gets to live freely."
Her and Jones' mother, Carol, wailed with grief as she listened to her daughter's words. Barely audible between sobs, she said she and Jones used to spend all their time together.
"…now he'll never be with me. It hurts so much."
Their hope for criminal convictions gone, the family is pursuing a civil lawsuit.
Charges are still a possibility for the family of Lowndes, however. In December, the Independent Investigations Office announced it is asking Crown council to consider charges against three Campbell River officers.
Lowndes' mother Laura Holland said Wednesday the police deserve to be shamed for what they did to her son and Indigenous people generally.
"You shoot us dead in the street and leave us there… you steal our children and take them away to residential school… you steal our lands and resources without a second thought about who we are as a people… you take us away from our families through the '60s Scoop. How can you tell me that that's not shameful?"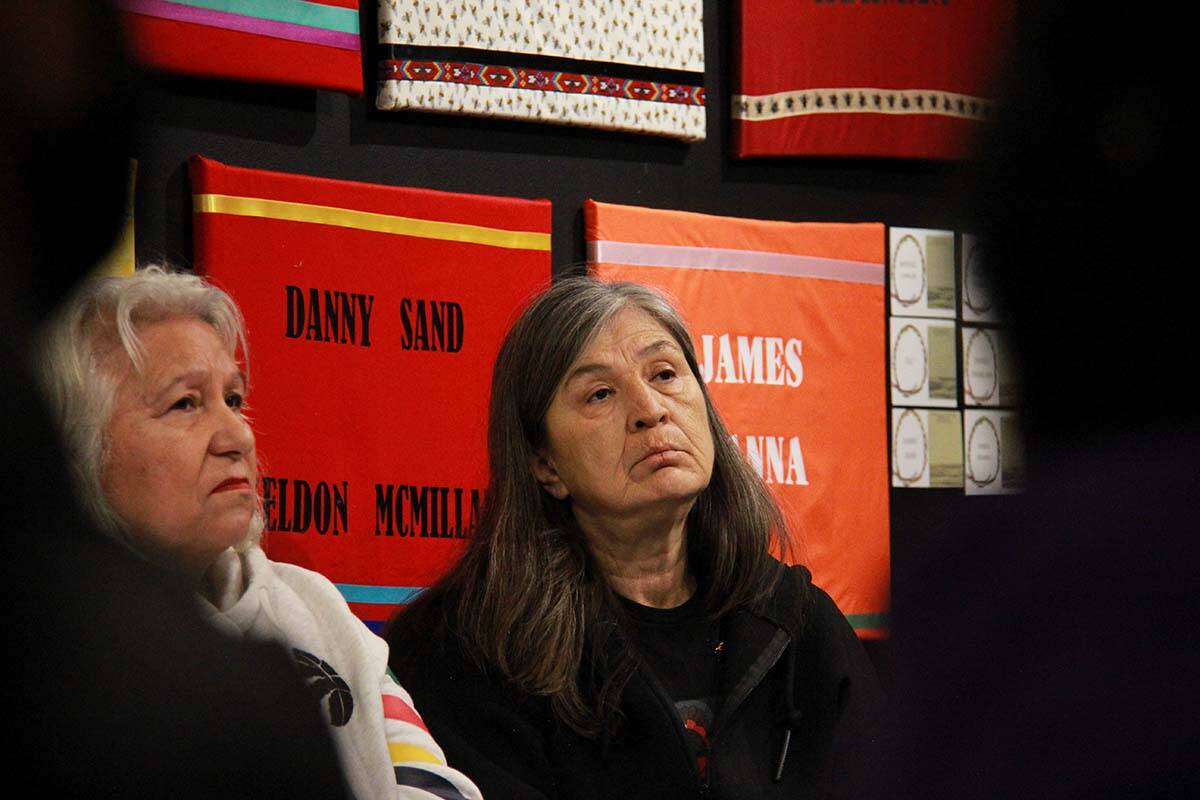 She and Laura Linklater, described as a kind of second mother to Lowndes, are the creators behind the "Honour Their Names" exhibit at Gallery Gachet.
Linklater said the art is a way to keep the spirits of their loved ones alive and let them know they haven't been forgotten. It's also intended to create a space of support and healing for the many families left without justice.
"As long as I'm alive, I'm going to keep doing this," Linklater said.
In B.C. and across Canada, the number of police-involved deaths has been rising, according to Tracking (In)Justice data. Last year was record setting for both. In B.C., 19 people died following police violence, nearly doubling the previous record of 10 set in 2010. In Canada, 69 people died, up from the previous record of 57 set in 2021.
"I don't think that we can ever stress how urgent this crisis is, that the police are gunning down people in the streets, in parking lots, in their homes," Meenakshi Mannoe, a criminalization and policing campaigner at Pivot Legal Society, said.
Also present Wednesday were the mothers of Regis Korchinski-Paquet, who fell 24 floors and died during a police wellness check in Toronto in May 2020, and Anthony Aust, who fell 12 floors and died during a no-knock SWAT team entry in Ottawa in October 2020.
Police were cleared of wrongdoing in both cases.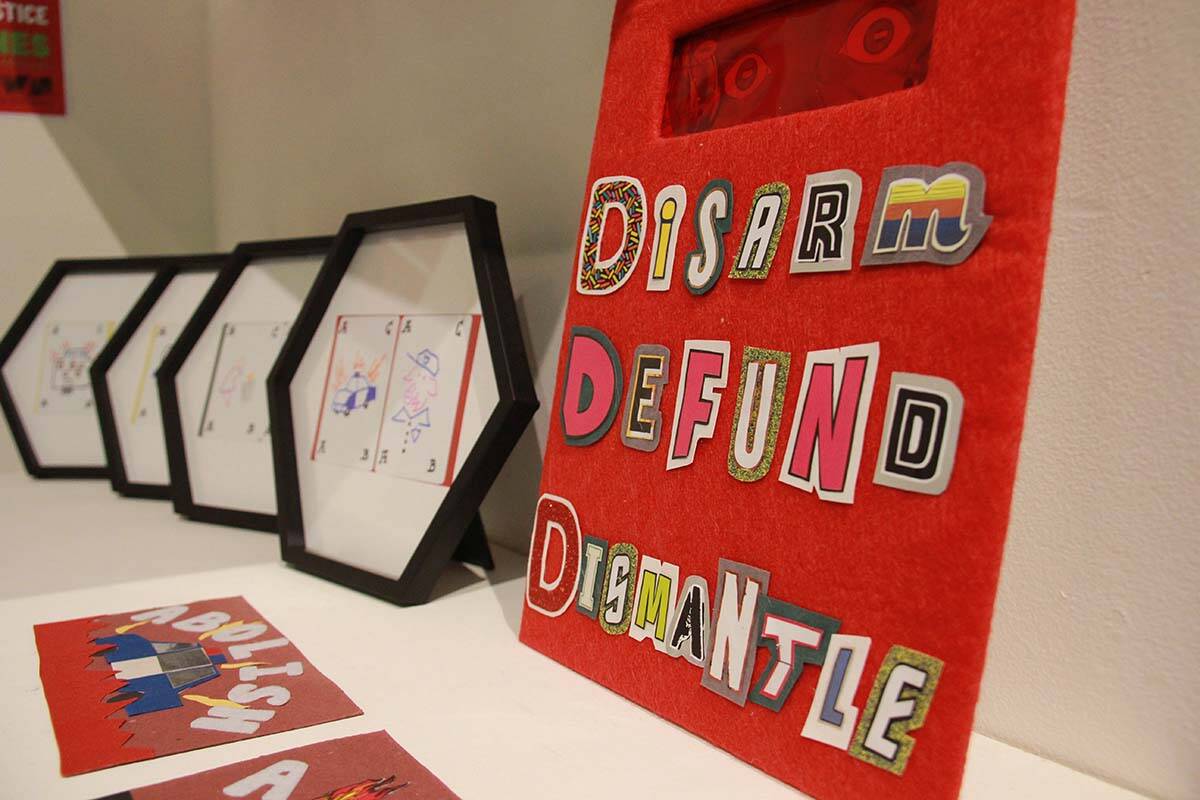 ---
@janeskrypnek
jane.skrypnek@blackpress.ca
Like us on Facebook and follow us on Twitter.