As a Peer Support Worker, Paige Alexcee is often the first person youth meet when they come to Foundry Terrace. And depending on their needs and comfort level, Paige may be the only person they interact with in the space for a long time.
"We start slow, until they're comfortable connecting with us. One youth connected with Peer Support almost every day for nearly a year before they felt comfortable attending groups and started making friends. They grew into themselves, started figuring out who they were, and eventually were able gain the confidence to pursue their life goals," she says.
Paige is a youth herself, and uses her lived experience to provide non-clinical emotional support to local youth.
"Most of the time youth who use Peer Support just enjoy having someone to listen to them — that seems to be what helps most."
Another youth Paige worked with was having trouble socializing, and often self-secluded in group settings. After working one-on-one with Peer Support, they're now leading two groups at Foundry Terrace.
"Watching youth grow and accomplish their goals is my favourite part of the job," Paige says.
TDCSS and Foundry Terrace need your support. Visit https://tdcss.ca/foundry to donate.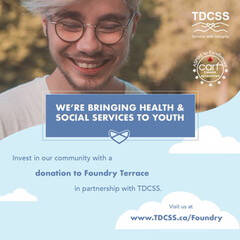 Paige also leads some of the Foundry Youth Groups, but says as interest in Foundry has grown the lack of space has been limiting. Foundry Terrace is currently operating out of an interim space at Terrace & District Community Services Society (TDCSS), and they're fundraising for a purpose-built space with affordable seniors housing above.
"Because our current space is so small, it's hard to run groups when we get busier. We also don't have the space for community partners to come in, or separate offices to accommodate more than one doctor, nurse practitioner or other medical professional," Paige says.
The new building, which was designed with feedback from Terrace youth, will have more room for groups and community partners, plus space to add the full breadth of services available at other Foundry locations across BC.
"Peer Support is actually supposed to be the first space you see when visiting a Foundry, even before you see the front desk. In our current space that's difficult, but we're pretty excited to see that implemented in the new building."
More space, more services, and even facilities like showers and laundry will help local youth feel more at home as they access supports for mental and physical health, substance use, school and work and more.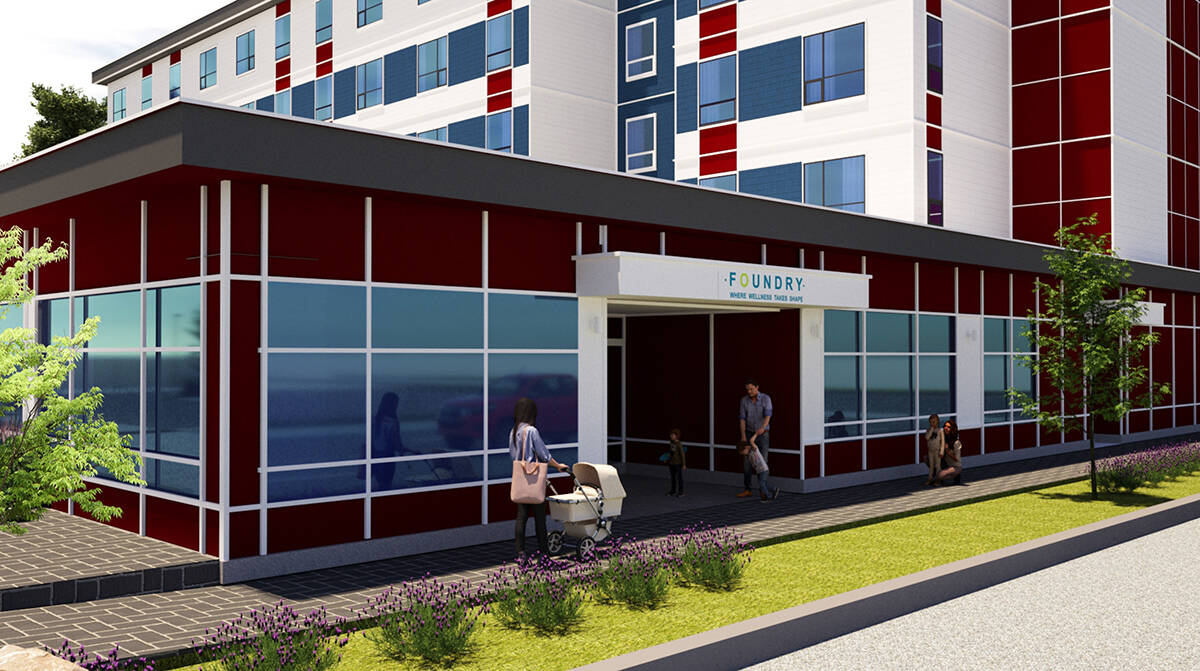 Support Terrace youth, donate to the new Foundry
Plans for the new building, to be located at 101-3219 Eby St., are already complete, and fundraising has begun. BC Housing is leading the funding for the four upper floors of affordable seniors housing, and TDCSS is the project lead for the Foundry centre. TDCSS is hoping to raise two million dollars over the next two years to complete the Foundry project — and make a real impact on Terrace, Thornhill and area youth for generations to come.
Learn more at foundrybc.ca/terrace, at facebook.com/TDCSS, and @foundry_terrace on Facebook and Instagram. Visit https://tdcss.ca/foundry to donate.
READ MORE: New youth centre will provide wrap-around supports so no one falls through the cracks
because it's so small, it's hard to run groups when we get busier