Keeping pace with the competition in the premium class appears to be no problem for Volvo.
The niche-market brand with Swedish heritage is steadily switching to electric propulsion from gasoline power systems, with two models currently in play and at least two more arriving in the next two years.
The seven-passenger 2024 EX90 electric vehicle that arrives next year will be followed by the compact five-seat 2025 EX30 utility-style vehicle, which is expected by mid-2024.
That's a long way out, but Volvo is releasing more details about the EX30, perhaps to generate some advance interest and show where the company is headed.
The EX30 bears some resemblance to Volvo's one-size-larger 2023 C40. The attractive shapes are clean and uncluttered and they project a simplified look with just the right amount of body creases and bulges.
Compared with the C40, the EX30 is shorter by 20 centimetres, lower by five centimetres and it has about four fewer centimetres between the front and rear wheels. That means less legroom for rear-seat passengers and also understandably less (but still decent) storage capacity with the rear seat upright or folded flat, but the EX30 has a small storage area beneath the hood, referred to as a front trunk, or a frunk.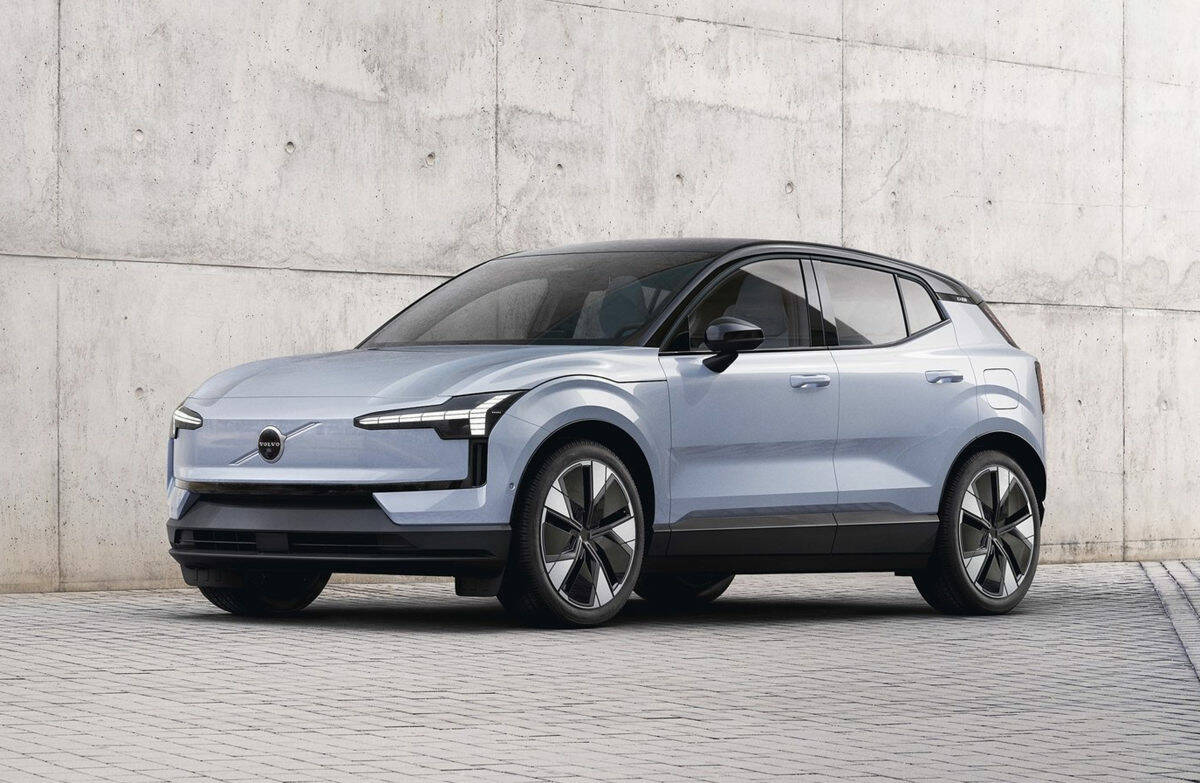 The EX30's minimalist theme extends to the interior. There's just a single vertically positioned 12.3-inch touch-screen containing both the driver's information plus infotainment, climate and navigations operations. Beneath it is a spacious centrally located glove box.
Otherwise, the dashboard is empty, save for the air vents. The power-window controls on the floor console are the only noticeable switches. The cabin has an ambient lighting program with a choice of five colours.
The available Harmon Kardon-brand audio system comes with what Volvo calls a soundbar speaker located at the base of windshield, extending across the full width of the dash.
Volvo points out that the seat-cover material is produced from recycled synthetic and natural materials, such as wool and denim. If you're into leather trim, you won't find it here.
The EX30 Extended Range comes with a single motor located at the rear axle. The motor is rated at 268 horsepower and 253 pound-feet of torque.
The optional Twin Motor Performance model has front and rear motors that produce a net 422 horsepower and 400 pound-feet of torque. Both systems are supported by a 64-kilowatt-hour battery pack that Volvo says can be recharged to 80 per cent from 10 in about eight hours with a Level 2 home charging unit. Why 80 per cent and not 100? Because automakers tend to advertise their quickest times, and the charge rate slows after 80 per cent battery capacity is reached.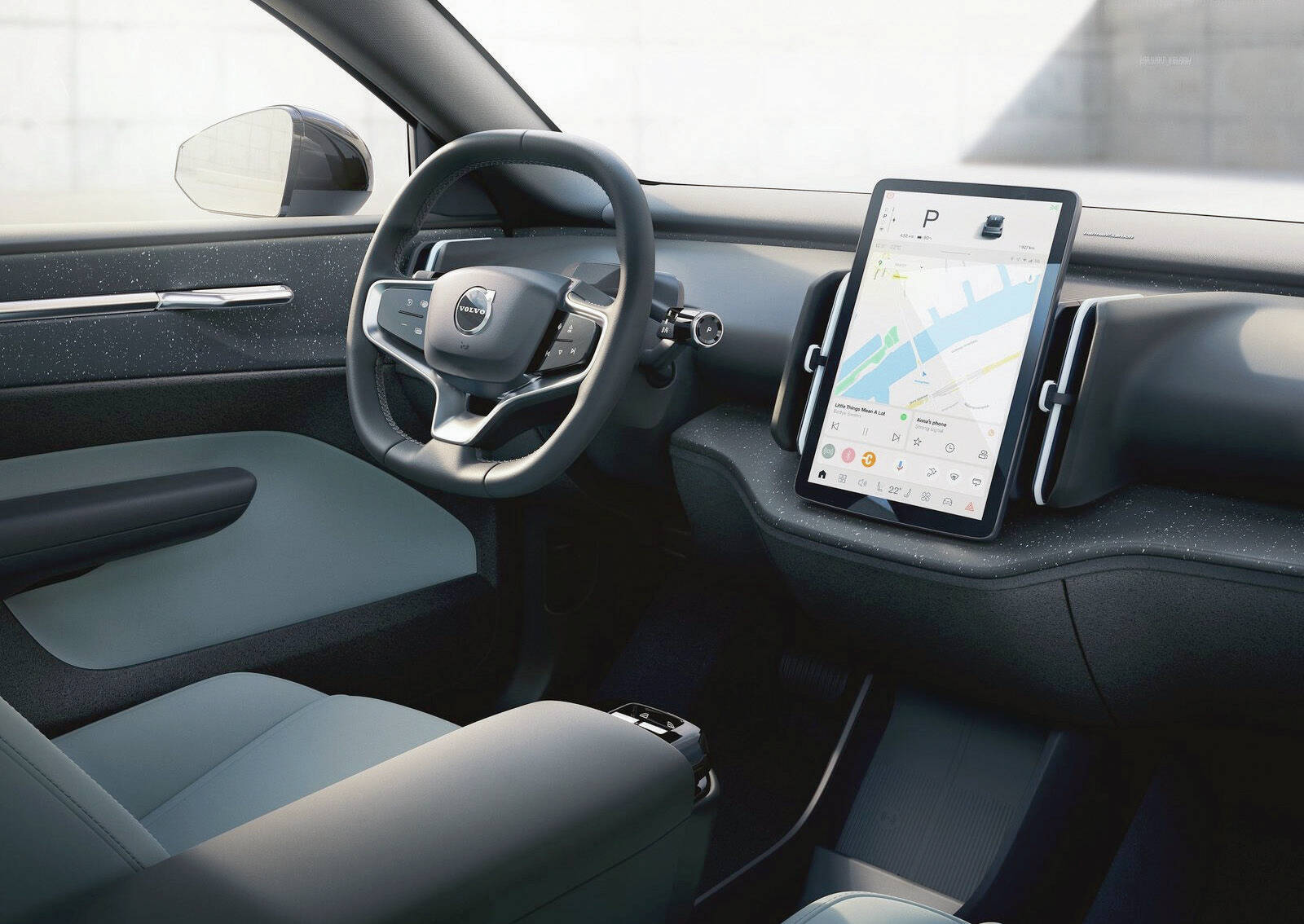 Connected to a 480-volt DC commercial-grade fast charger, that time drops to 30 minutes.
Volvo says the EX30 Extended Range can hit 60 mph (96 km/h) from rest in 5.1 seconds, while the Twin Motor Performance variant cuts that to just 3.4 seconds. Remember, this is a Volvo we're talking about, and at 1,800-plus kilograms, it's not exactly a lightweight.
The single-motor EX30's maximum range is estimated at 440 kilometres, and the two-motor variant is rated only slightly less at 424.
The base single-motor Core (one of three available trims) starts at an estimated $45,000, including destination charges. Volvo hasn't revealed the full list of standard equipment, but the company does confirm that most driver-assist technology such as automatic emergency braking, lane-keeping assist, adaptive cruise control and pedestrian and cyclist detection will be included.
Available is latest version of Volvo's Park Pilot Assist that can place the EX30 into parallel and diagonal spots.
Later in the 2025 model year, Volvo will introduce the EX30 Cross Country. Although not a true off-road machine, it will have more ground clearance, front, rear and side skid plates, blacked-out front, rear and side panels and black 19-inch wheels (18-inch wheels are standard).
Meanwhile, the EX30 promises to be a popular choice for budget-minded buyers seeking a well-equipped, good-looking and fuel-saving electric vehicle with reasonable range for city and highway travel.
And if this is the kind of pricing that buyers can expect from Volvo, perhaps there's hope that EVs won't always just be for the wealthy.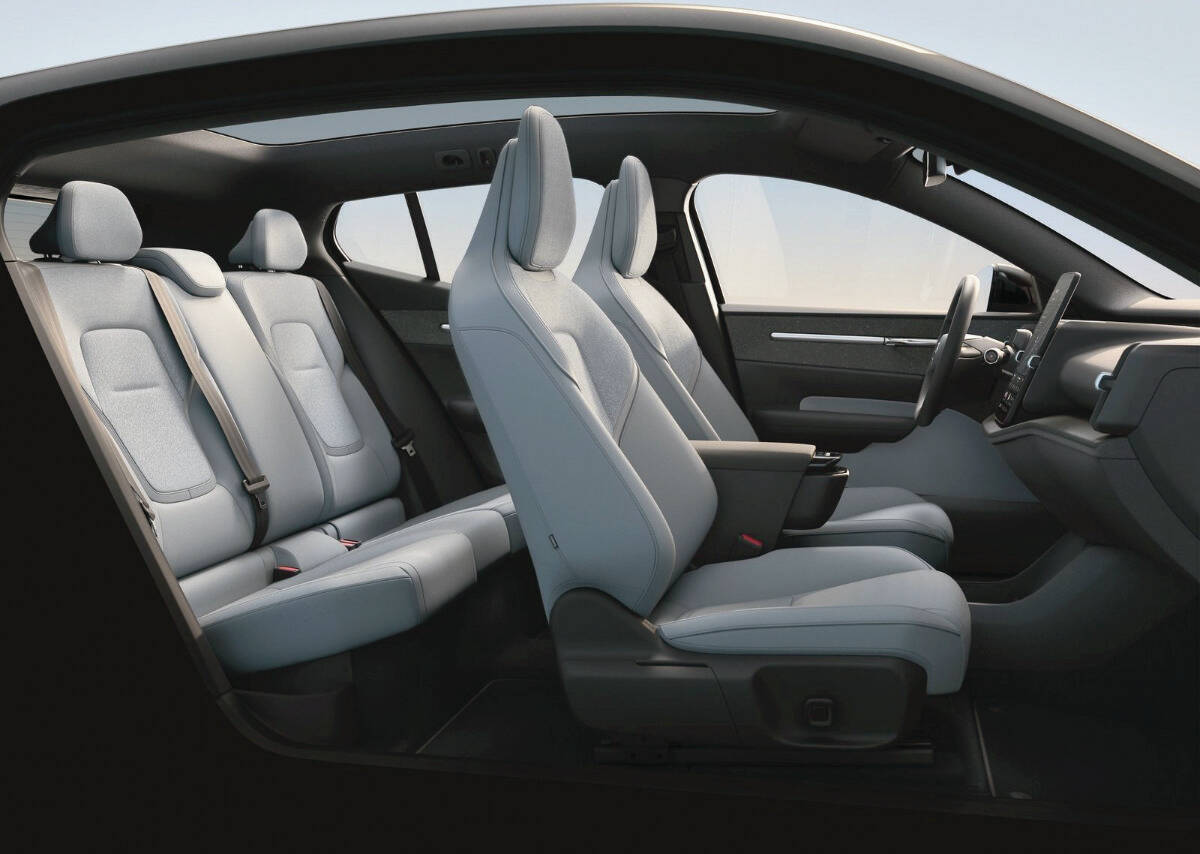 What you should know: 2025 Volvo EX30
Type: Rear- /all-wheel-drive compact electric utility vehicle
Motors (h.p.): Front/front and rear electric (268/422)
Transmission: Single-speed controller
Market position: Expect the EX30 to be the smallest and least-expensive model in Volvo's lineup, whether electric- or gasoline-powered. For the price, it offers more power and range than some other EVs. It's a possible indicator of more affordable vehicles of its type to follow.
Points: Eye-catching looks from front to back. • As with Tesla models, the EX30 does away with gauges behind the steering wheel. • Motor output and battery range are quite acceptable. • Restrictive rear-seat legroom might concern some prospective buyers. • An attractive base price should make the competition sit up and take notice.
Active safety: Blind-spot warning with cross-traffic backup alert (std.); active cruise control (std.); front and rear emergency braking (std.); inattentive-driver alert (std.); lane-departure warning (std.); pedestrian cyclist detection (std.)
l/100 km equivalency (city/hwy): n.a.
Base price (incl. destination): $45,000
BY COMPARISON
Tesla Model 3
Base price: $55,000
Quick, compact sedan offers 530 kilometres of range. Price drop for 2023.
Hyundai Ioniq 5
Base price: $51,650
Front- and all-wheel-drive versions provide decent range and power.
Volkswagen ID.4
Base price: $49,150
Roomy EV comes with up to 295 h.p. Range maxes out at 443 kilometres.
– written by Malcom Gunn, Managing Partner at Wheelbase Media
If you're interested in new or used vehicles, be sure to visit TodaysDrive.com to find your dream car today! Like us on Facebook and follow us on Instagram